As independent consultants, we provide advice on urban regeneration, development and commercial entertainment.
What makes us different? We combine our executive-level skills to offer a new approach to place-making. Our support delivers lively town centres that stand out in the rapidly changing retail environment.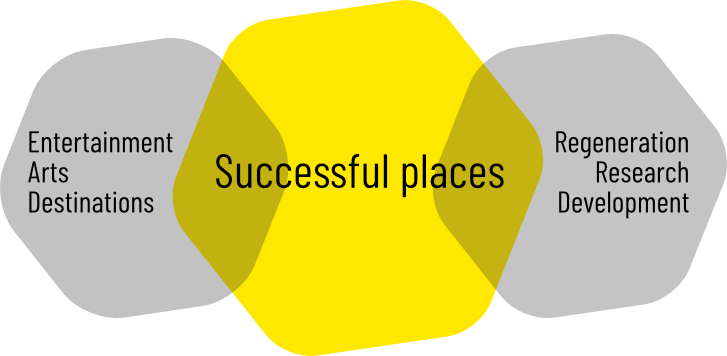 Breadth of experience in the public and private sectors, links with the latest academic thinking and a solid track record of delivery, provide practical solutions for regeneration, the arts business and destination marketing.
A small, agile consultancy - you'll deal direct with us, no juniors.
Tap into our flair for lateral thinking and our extensive network of associate practitioners in the built environment, town and city management, community safety, theatre, public art and live music.
Call or email to find out how we can help you.
+44 (0) 7919 211489 Email: victor at hadleynicholls.com
Clients/projects include:
Activist Group | The District, Abu Dhabi (with Theatre Projects) | Ambassador Theatre Group | ATG/Live Nation marketing integration | ATG Magazine | The Audience Business, Edinburgh | Carrick Leisure | Churchill Theatre, Bromley | Cornwall County Council | Dance Umbrella | Fairfield Halls, Croydon | Hall for Cornwall | Kings Theatre, Glasgow | Milton Keynes Theatre | PWC | Richmond Theatre | Scarborough Borough Council | South Hill Park Arts Centre | Swindon Borough Council | Touring Consortium | Trafalgar Studios | Trafalgar Entertainment | Victoria Hall and Regent Theatre, Stoke on Trent | Waterside Theatre, Aylesbury | Wimbledon Theatre | Woking Dance Festival
Jessamy Hadley

Jessamy has worked in the arts for nearly 30 years. A graduate of Oxford University with a postgraduate Diploma in Arts Policy & Management from City University, her experience includes business development and marketing strategy for West End and regional theatre, music festivals, and touring.

Jessamy has worked in senior roles for companies such as Whirligig Theatre, South Hill Park Arts Centre and Ambassador Theatre Group where she was closely involved with the growth of the company as part of a small team working on UK and international theatre acquisitions. During this time, ATG became the world's largest live theatre business. She oversaw marketing integration for ATG following the acquisition of Live Nation Theatres in 2010 and worked on various development projects for the group in the Middle East and US.

A consultant since 2000, her work has ranged from local authority-run venues to major commercial theatre operations.

Since 2016, Jessamy has been working with Sir Howard Panter and Dame Rosemary Squire on the launch and development of their latest venture - Trafalgar Entertainment, a live entertainment company with interests in theatre production, event cinema and performing arts education.


Victor Nicholls

Victor is a chartered town planner with 35 years' experience in local authority regeneration, development and senior management.

Previously Executive Director of Borough Development and Deputy Chief Executive at Basingstoke and Deane Borough Council, responsible for flagship development projects worth £4bn. As Assistant Chief Executive at Bracknell Forest Council, Victor led the council's team to masterplan and deliver the Lexicon, Bracknell, the first substantial regeneration of a post-war New Town centre in the UK. The scheme was an award-winning development and one of the largest construction projects in the country, elevating the town from 355 to 29 in the retail rankings.

As a member of the corporate leadership team, Victor provided strategic management for one of the six unitary authorities in Berkshire, offering the complete range of local government services. He has led teams delivering a range of services including community safety, culture, economic development, leisure, transport and planning as well as corporate strategy and communications.

Victor is a Lecturer in Development and Planning in the Department of Real Estate and Planning, Henley Business School, University of Reading. He is a member of the Revo Urban Development and Local Authority Advisory committees and a judge on the Revo Purple Apple Awards. In 2017, he was invited to become an Academician at the Academy of Urbanism.